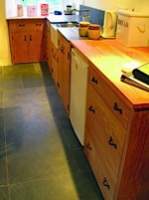 The Devon Carpenter is Phil Szaniszlo.
With over 20 years experience as a carpenter-craftsman, I can help you realise your plans and ideas.
My diverse background includes working as a propmaker for the Royal Opera House, making furniture in New Zealand and building in the cotswolds. This experience gives me a unique sense of creativity and varied skills.
I prefer to work with local timber and Devon sawyers for projects that range from traditional oak framing and log building to bespoke kitchens and beautiful hardwood floors.
I am equally comfortable working with contemporary and traditional properties, and have much experience with cob and lime.
The process usually starts with an informal chat over your ideas or architects plans.....
Call me on 07804 253 185 or 01409 221 238.